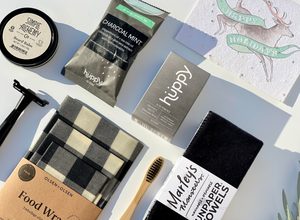 Sustainable gifting made easy — shop our curated collection of our most loved zero-waste gifts.
Kitchen Essentials
Festive beeswax wraps, all-natural bag clips, refillable soaps, and more.
Shop Now
Natural Earth Paint
Fine art supplies made in small batches with natural earth pigments, organic binders and ingredients.
Shop Now
Gift Wrap
Add a note requesting gift wrap at checkout and we'll wrap your order in our custom sustainable FSC-certified compostable botanical tissue.
Plogging Club
Clean the beach with us on the first Sunday of every month and earn exclusive rewards.
Learn More
One for one
Reforestation
Planting trees helps to limit climate change, provides homes for animals, and most importantly provides financial stability to villages living beneath the poverty line. This is why we have partnered with Ecologi and the Eden Reforestation Projects to plant a tree for every product sold on our website.
Learn More
We promise to listen, to learn, and to take action against social injustice.